Why stick with white?
We want you to try all the colours.  We want your home to be fun and daring, the envy of your neighbours, whats the epitome of cheery? It's simple. Rainbows.  They are instant happiness.  Get them all in your house.  Now!
These rainbow are less candy shop inspired of the 80's, the modern-day descendants are irresistibly cool:  Wall hangings, decorative objects, our famous Rainbouff, and neon lights of course.
Shop the Rainbow with us now.
Watch the Rainbows
Commission your own colours with this lush wall hanging from artist Natalie Jade
Ceramic rainbow hanging (commission) - Regular price
We are in love with Sarah Sherman Samuel's just-launched Lulu and Georgia Collection is bursting with subtle rainbow motifs, like this burnt orange rug, not to mentions the cushions if they are more your fetish.  If you have not heard of Sarah yet she is one to check out for bulk inspiration.
Arches Rug, Rust by Sarah Sherman Samuel - from USD$128
Wrap yourself in Rainbows
It does not get much better than this.
The Perry Throw was designed by Melbourne based textile designer Claire Ritchie - the colour palate alone is enough to make us swoon.  Find it here at Slow Down Studio  
Claire Ritchie - Perry Throw. $230
And finally - Drink the rainbow
Look at these cuties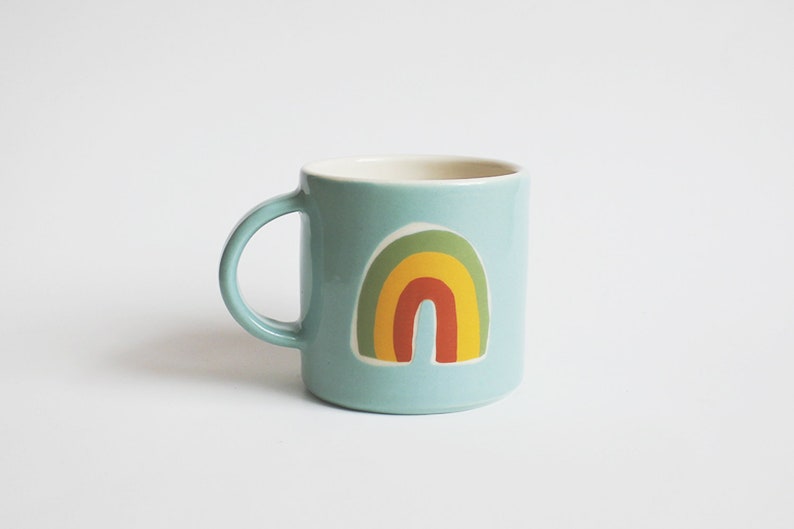 Hand made by Beardbangs in in Toronto, Ontario. Cute colours - enough said.  Actually not quite - their whole range is cute.